By Ivonne C.
The other night, we went to the Sky Bar located in the center of Vaasa, for one of these music series they organize called Roots Nights. We went to see the show of Kokomo Kings, a band originally from Gothenburg, Sweden, formed around 2012 by 4 white men who play blues and rockabilly, and who have already toured several European countries.
The event was free, so we arrived a little early to get a good seat because we had not been to that bar before and we didn't really know what the dynamics were like. I was surprised to see so many white people over 60 years of age. Of course, I'm not saying that as a negative thing. I have nothing against elderly persons coming to events, not at all, don't get me wrong. Considering that Vaasa is a city with 5 universities of international students and large companies that employ workers from all over the world, it surprised me precisely because I guess I expected to see more of a variety of people, just because it was a free event, and you don't even have to spend money, the only thing you would spend on is consumption, food or alcoholic and non-alcoholic drinks that you don't necessarily have to buy.
Anyway, the people there looked at us strangely when we entered the place, as if we were lost. After a few beers, they kind of forgot that we were there. The place was already almost full and there were several tables reserved, so we sat in an aisle that is in the middle of the two main areas of the bar. It was a good place, we could clearly see the band from our place, in fact we could see the entire panorama from there, and we had enough space to dance right there just by getting up from our seats.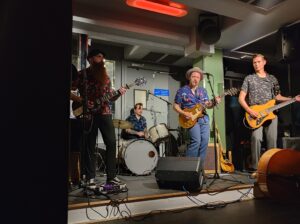 The music started and it was what I expected, I really wanted to enjoy something like this live. What I love most about this music is that they use the contrabass or double bass. I have a sensual inclination for that instrument, it attracts me, I am excited by its sound. For example, although they are from a different genre, it is no coincidence that the songs that I like the most by Esperanza Spalding, Tonina Saputo, even Lisa Hannigan and her band, have that element and that delicious sound. So I like not only listening to it but seeing when the musicians play it.
By the third song, people started getting more excited and dancing. I liked them a lot! There were songs they played that were more rock & roll, others more blues and some more rockabilly.
How nice the bar is, by the way. It's spacious, kept clean, and has a beautiful view of the city. In addition, it has a part with a roof that is more outdoors and in summer you must have a great time there. I should come to that area specifically next summer.
I hope that future events will feature more diverse musicians and that they will honor the name of the event series, that's Roots nights, mi capici? I mean, Roots! For now, they have announced that the next concert will be by Lena & The Slide Brothers, originally from Helsinki. We'll see.